Honeywell is a monstrous, century old company, touting their presence in every industry from humidifiers to personal generators to commercial shredders.  And while I'm happy for them and their $35 billion annual international revenue, I'm a bit more concerned with their security products.  The majority of their business in the security sector deals primarily in smaller-sized, personal fire safes, intended mainly for storing valuables like documents and photos.  Go in any office supply store, and you're likely to find Honeywell and Sentry dominating the safe aisles.  Honeywell, however, also produces a decent little gun safe, including their Executive line.The Executive Digital gun safe is the kind of unit that has the potential to be a great fit in a certain environment.  First of all, it's not terribly expensive, running around $1100 over at gunsafes.com (tax and shipping already included as always).  This puts it right around the neighborhood of the Sentry model noted in an earlier post, Winchester's Legacy line, and Stack On's Elite series.  That said, it holds its own pretty well.  It's a bit light, coming in at a cool 375 lbs, however, included in the package is an easy to install mounting kit.  If installed properly, ideally with steel backing reinforced anchor bolts, it'll hold up pretty well under the duress of an aggressive removal attempt.  The sucker is pretty sturdy in constitution; Honeywell safes from the Executive line sport 6 gauge steel in the door, and 11 on the sides, and surrounded by five locking bolts around the perimeter, the unit has the potential to provide a decent security seal.
This, of course, is a Honeywell fire safe, and as nearly all security products from the Honeywell line offer at least some degree of fire protection, this is no exception with a respectable rating of 30 minutes at 1550 degrees F.  Now, as in the case of all gun safe fire protection ratings, the industry lacks a universal system to hold the company accountable for the claim.  However, they hold a few cards in their favor:
Honeywell has developed a bit of a name for themselves in their home and office fire safe line.  As previously mentioned, they've saturated the aisles of every office supply store in the country.
It's a relatively small safe.  Though it's capable as advertised of storing 14-18 long guns, its relatively compact dimensions are ideal for fire conditions, especially if you apply caution and place your valuables as low to the floor as possible.
They've constructed the safe to include uniform fire board insulation as an added barrier.
Though their manufacturer warranty is only five years, they honor lifetime coverage to the original owner against fire damage.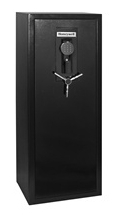 While the Executive digital model includes a couple neat little features like built in lighting, and interior padded carpeting, one of the most appealing extras, particularly for parents of young ones (or sleep walkers) is the interior escape latch.  Gun safes are just like refrigerators in respect to the danger of getting locked inside one – in most cases, there's no way out, and the air runs out fast.  This is a nice little safety addition that you don't often see.
I mentioned early on that, given the right environment, the Honeywell Executive 2754DB would make a pretty decent "little" gun safe.  While it has some nice qualities, I'd recommend changing up a few things.  It includes a rather generic electronic lock.  I would replace the lock with a more robust UL listed model like S&G's Z02 series or a Kaba Mas unit.  A system like this would provide far better security to compliment its 6 gauge steel door, especially if you wire it into your security system (or at least make it look like you did).  I'd also drop this guy behind a false wall, or at least get it out of the open.  While this is really a good idea to do with any home safe, it's security features leave a little to be desired (at least not enough to meet UL's sought after RSC burglary rating).  That aside, like most Honeywell safes, this one offers some respectable evalue.  As usual, just make sure you plan your placement carefully, and store responsibly.