Not all gun lovers have a firearms collection large enough to justify dropping a couple grand on a premium gun safe, and if they ever had the money to make it happen, they'd likely just run out and spend it on more guns (sometimes I secretly wish someone would put a gun to my head and make me spend my life savings on machine guns and ninja swords…is that sick?).
Anyways, the point is, gun owners who have dozens of firearms locked up in their house are definitely a minority among those of us who just have one or two that they keep around for the occasional hunting trip.  Regardless of your story, it's my healthy opinion that every gun owner has the right, and arguably the duty to arm himself with the tools necessary to properly defend his family and household.  Having accessibility to your firearms, second only to safety, is the number one factor you should take into consideration when planning your defense.
I carry a pistol on me wherever it's legal to carry one, and that includes getting up off my couch at half time to hit the head.  My wife thinks I'm insane, but I do it anyway for two reasons.  One, guns are just fun to wear and they're more practical than jewelry, and two, you never know when someone's going to come breaking through the backdoor.  I don't know what the statistics are for home invasions in your neighborhood, and frankly I don't care.  The point is, it's possible, it can happen, and if it does, it's the other guy's face you want exploding all over your bedroom wall in the middle of the night.
Sorry for being so grim, but it's true, most break ins do occur after bedtime.  For this reason, it's important, no matter who you are to safely keep a firearm next to your bed, accessible in a seconds notice.  The following are a few rapid access, bedside gun storage solutions that I've ordered based on a feature-rich sliding scale.  We'll start from the bottom:
Pistol under the pillow method:
What's the fastest way to get to a loaded shotgun in the middle of the night?  Just sleep with it in your bed, dummy!  Seriously though, I'm pretty much not joking.  Bedside mounted gun racks like The Back-Up are the quickest way to arm yourself coming out of a dead sleep.  They're also the most dangerous.  They work by placing the frame, which is the bulk of the unit, underneath the mattress, leaving the gun rack exposed.  You simply adjust the rack to fit your gun, place it on the rack, and let your sheets hang over it.  Check out the infomercial if you haven't seen it yet – it's a real gem.
It would be pretty easy to make one of these, but they're not terribly expensive; when it's all said and done, you're probably better off just buying one.  This bedside firearm storage solution's biggest flaw is also it's biggest perk; it's right out in the open for anyone to have access.  The folks behind The Back-Up explicitly advise against using this product in a home with children, but even if I didn't have kids, I might shy away from it.  My brother crashes at my house every now and then, and the dude has been known to sleepwalk.  I don't want him wandering into my room, butting up against my bed, and finding a weapon to hunt his Dreamland critters with.  I'm just sayin'…
If you're considering this freewheelin' solution, but you're looking for a little more flexibility, consider a product like the Quick Draw Gun Magnet.  You can mount it just about anywhere from behind your headboard to under your nightstand, and it will magnetically keep a firearm weighing up to 10 lbs in place.  If you're an empty nester, keeping your guns out in the open definitely has its tactical advantages, but it still scares the hell out of me.
I'm a huge proponent of handgun safes.  They're priced well, compact, and fit a perfect balance between security and accessibility.  I'm not going to go into too much detail on handgun safes in this article, as I've covered the basics of buying one rather extensively already (here's an article…and here's another).  I will say, however, that if you just take a minute to read a few feature lists and reviews, you can't really go wrong.  The options are virtually limitless – my advice is to simply pick the one that meets your needs.  I personally have a GunVault MiniVault biometric safe and a Winchester EVault, and I've been very happy with both.
The only downside to these buggers is that they aren't large enough to secure a rifle or a shotgun.  Of course, a pistol is a heck of a lot better than a flatline.

Wall Safes
Like the aforementioned pistol boxes, wall safes come in all sorts of fun varieties.  I wouldn't recommend storing anything terribly expensive in one unless it's extremely well hidden (you might end up with a huge hole in your wall), but most will offer the capacity to stow anything from handguns to handbags.  That said, what attracts me to wall safes is that they're a smart, secure way to keep long guns in the bedroom.  As wild as The Back-Up commercial is (see above), it pretty well speaks the truth; you're usually in a better position when you're armed with a shotgun over a pistol.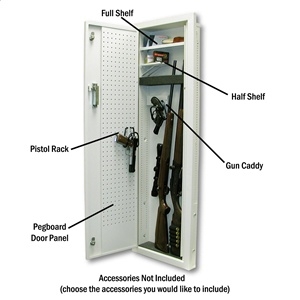 Unfortunately, most wall safes don't come in a size adequate for long gun storage.  There aren't too many out there on the market.  Homak makes a really inexpensive keyed entry model, which will house up to three rifles or shotguns, but I'm a little weary around the notion of fumbling around for keys in the middle of the night.  However, if you don't view that as a deterrent, more power to you.
Another wall safe capable of long gun storage is the V-line Closet Vault, which can be mounted or embedded directly into the wall.  The Closet Vault is a great unit.  It's spacious, easily accessorized, and employs a mechanical push button lock; electrical failures aren't terribly common, but with the V-line unit they're impossible.  It's a bit expensive, but it's a fantastic product.
One downside to wall safes that I've discussed before is that they aren't quite as accessible as the aforementioned "pistol under the pillow" or even the handgun safe method.  No matter where you palce it, you're always going to have to spend a few extra seconds getting up out of bed and running across the room to open it – small price to pay for the tactical benefit of an 870?  Perhaps – but it's still something to roll around the old noggin'.  Here's some more food if you're still hungry for my wall safe ramblings.
Ok, so kids in the house (or the fear of keeping a loaded shotgun between the sheets) rule out The Back-Up as an option, you don't want to put any massive holes in your walls, and handgun safes…well, they just aren't pretty enough…what bedside firearms storage option does that leave?  Simple – just streamline a biometric gun safe directly into your nightstand.  The good folks over at SleepSafe have near-perfected this build.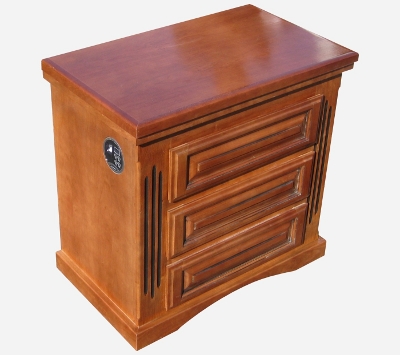 They sell office desks, dressers, foyer tables, and, of course, nightstands, all with seamlessly built in fingerprint reading safes for rapid accessibility.  While the nightstand in particular is a fully functional piece of furniture, its top drawer is lined head-to-toe and to-and-fro with hidden 12 gauge steel.  The drawer slides out smoothly when you swipe your finger over the biometric reader, which can be placed on either the left or right side (determined when you put in the build order).
Gun safe furniture (for lack of a better term) ain't cheap.  SleepSafes nightstands in particular will run you a cool $1400, however, this is no Wal-Mart grade particle board – this is some handmade quality @#$%.  They'll build your safe with solid Hickory, Oak, or Cherry, and stain it however you'd like.  If you have the funds to drop on a piece like this, it's a heck of a setup…I'd love to have a piece of this functional furniture in every room in my house, but again, I'm not quite right in the head.
This final unit just barely squeezes into this article, as this list is comprised of bed "side" gun storage; the Bed Bunker is more of a bed "underside" solution.  Nomenclature aside, the real reason I hesitate on including this breed of security enclosures is because it's not geared for quick entry – at least relative to the other units mentioned.  Unfortunately, I've never had the pleasure of seeing one of these suckers in "real life", but it looks like one heck of a unit – unique in the least.
The Bed Bunker is very similar in both makeup and concept to the discontinued Amsec HC1854, only it's a lot bigger, thicker, and designed to fill very particular niche concealment.  Overall, it weighs between 670 and 1500 lbs (depending on the model) with 10 gauge steel walls and a 1/4″ thick gas spring-assisted steel door.   Its massive interior allows storage for allegedly 35 long guns and 70 handguns.  It even offers a said two hour fire rating.  Again, I've never actually touch e, as previously stated, is that it lays directly underneath your mattress.  They offer seven different sizes (from twin to California king), fitted just right for your bedroom decor.  Ten gauge steel may be seen as a little thin for the walls of a $2-4,000 safe, but as its name entails, this sucker's made to stay hidden; cover it up with a flowery bed skirt, and you're in business.  If the gun safe's a rockin', don't come a knockin'…am I right? (If you've ever wanted to make love on a pile of 100 firearms, this is probably the "safest" way to do it 😉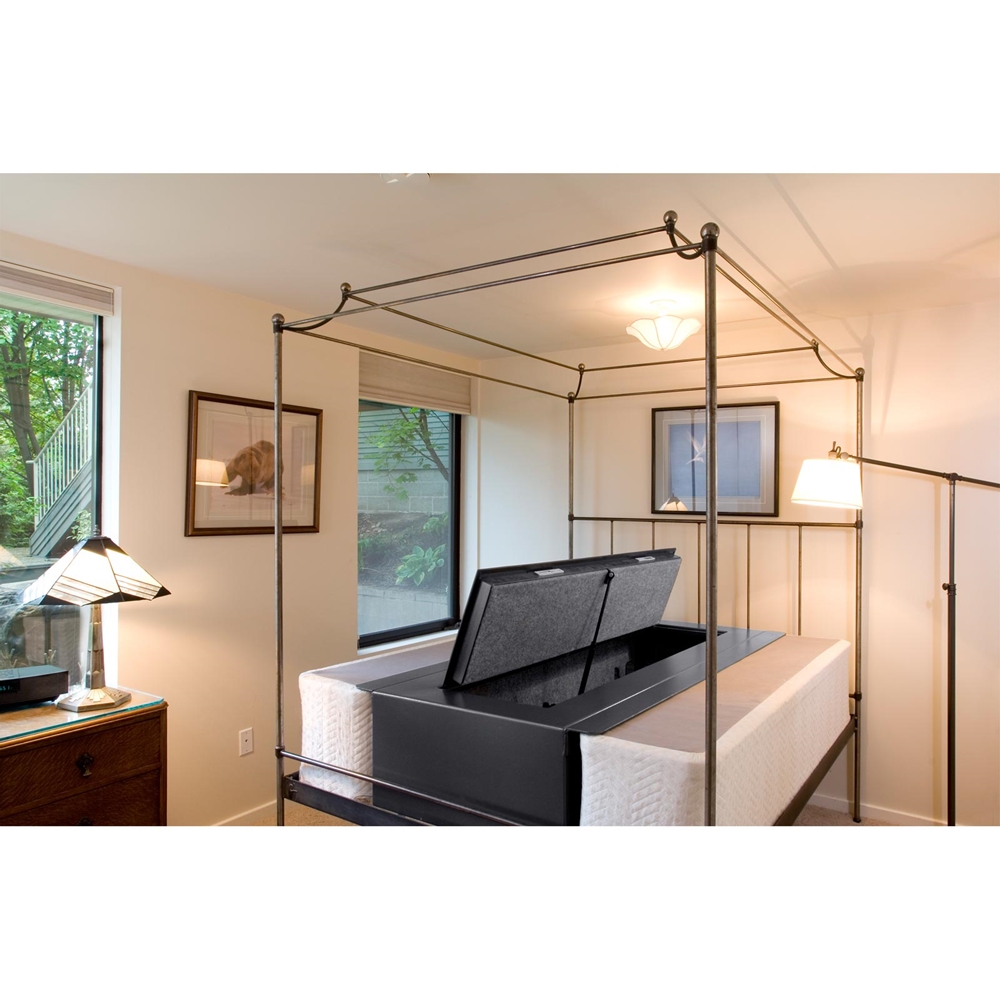 The downside of this unit, and most other horizontal safes stored under the bed, is that you can't really get to them in a hurry.  You have to slide the mattress off (which would drive my wife nuts, no matter who was breaking in) to get to the safe.  That in itself, wouldn't necessarily be a terrible hindrance, but the lock (Mul-T-Lock) requires keyed entry.
For casual access, considering the location of the unit, this isn't really a bad thing.  For an emergency situation, however, I'm afraid to say it's just too many steps.  In the accompanying video, the guy does it in 10 seconds, which isn't too bad.  However, he already has the key in his hand, and no one's sleeping in the bed next to him.   If that's good enough for you, awesome, but in my house, I'd have to find the key in the dark, wake up my soon to be terrified, paralyzed with fear wife, make her get off the bed (which I just peed because, I too, am terrified) so that I could move the mattress, find the lock, open it…I don't know, maybe I'm missing something.  I'd love for someone to tell me what it is because I think this unit has a lot of good things to offer.