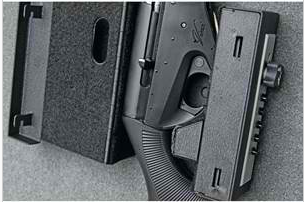 A shotgun is one of the most ferociously effective weapons on the civilian arms market – or any other for that matter.  In fact, during the First World War, the Germans tried to ban them, as our boys were absolutely shredding their forces in the trenches; one allied soldier, Sergeant Fred Lloyd, strapped with a Winchester 1897, killed 30 German soldiers in a single day, freeing an entire village by himself (straight baller).
Now, you may not have 30 Germans attempting to invade your home this evening (they're a much nicer people nowadays), but the utter dominance of a shotgun is undeniable.  Offering forgiving accuracy to novice shooters and unmatched close-quarters stopping power, there's arguably no better tool you can use to defend your family against a home invasion.

A shotgun best fits my personal preference for home defense, but up until recently, I've struggled to find an affordable way to safely keep one accessible in the bedroom.  The Backup is great for getting armed in a hurry, but with virtually zero security, safety is horribly compromised.  The V-Line Closet Vault's Simplex lock offers quick accessibility, and its enclosure is ideal for security, but at $550, my wallet has it marked as a luxury item.
After a bit of online research and time spent talking to the fine folks over at TruckVault, I decided to give their ShotLock shotgun safe a shot.  Rhetoric aside, I'm quite pleased with my purchase.
The ShotLock is a compact lock box made of 14 gauge steel, currently hanging a racked-n-ready Mossberg 500c behind my bedroom door.  How can I possibly feel comfortable having a loaded firearm out in the open with kids in the house?  Well, for one, I have a pretty cool wife who has allowed me to sacrifice decor for security (although the mounted tac light makes a decent wall lamp), and secondly, despite the shotgun's fully exposed configuration, the ShotLock makes casual access practically impossible.  The concept is so simple that it's hard to imagine no one came out with a similar solution any sooner.
The gun rests securely in a padded enclosure, which clamps down over the receiver and the trigger housing.  Once locked, it can be quickly opened again by punching in a 2-5 mechanical button combination (no power required).  This design offers incredible flexibility; you can wall-mount a gun vertically, as I did, hang it horizontally, or even on its head.  Alternatively, you can opt not to mount it at all, and tuck it under the bed, or throw it in the back of your car (check your local laws first).  And again, I'll stress its biggest perk; it enables you to keep a shotgun both safely locked up, and extremely accessible.  For an affordable $169 MSRP, it's a fine package (heh…package).
Of course, regrettably, this fine home defense solution isn't for everyone…every gun, rather.  TruckVault charged themselves with the lofty task of trying to create a fit for as many shotgun models as possibly possible, and their efforts yielded some pretty tremendous results; there are a slew of pump-action, over-unders, and semi-automatic shotguns that the ShotLock will comfortably secure.  That said, there are quite a few that it won't.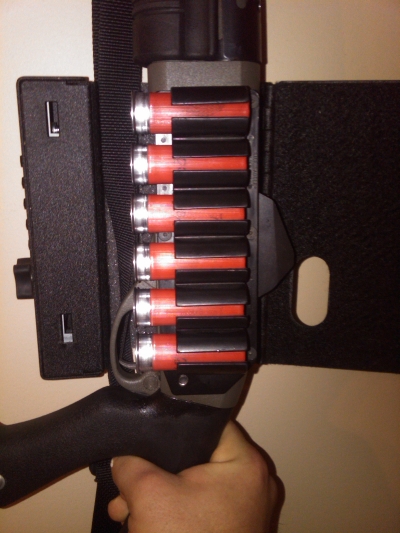 If your gun has any aftermarket modifications, specifically, side saddle (EDIT – workaround for the side saddles), receiver-mounted lights, rails, most optics (unfortunately, ghost rings included), and a handful of pistol grip configurations, there's a good chance it's not going to fit.  While I would love to squeeze my hot-rodded Remington 870 into the ShotLock, as you can see in the picture, there's just no freakin' way it's going to happen.
That said, I knew before I made the order that it wouldn't fit; ShotLock makes it very evident on their site which guns won't work, and based on my experience, they're happy to answer questions over the phone as well.  Another bummer is that most rifles won't fit either, however, .223 fans might find some comfort in knowing that TruckVault will be releasing a new AR15/M4 capable model later in 2011.
Compatibility is just about the only bone I have to pick with an otherwise fantastic product.  While I've only had it a week, I know ShotLock's unconditional warranty will keep me happy for at least two more years.  As far as I'm concerned, I've found the best way to affordably keep my shotgun safe and close by should I encounter any Great War German soldiers, home invaders, or any other buckshot susceptible riffraff.
If you want to read more on how the product works, or you're stuck at an installation step, check out my guide on ShotLock assembly and installation instructions.