My friend just got a new do it yourself home security package from Simplisafe, and was kind enough to write up a comprehensive review for the site.  Enjoy!:
After recently adding a new member to our family (a baby girl) my wife has been asking me to invest in a security system for our house.  We live in a safe neighborhood, but when I am away on business my wife feels more secure knowing that she has an alarm with 24/7 monitoring.  I decided to purchase a system for her as a Christmas gift.
I researched two of the traditional security system companies that have advertised for years (ADT – who apparently now owns Brinks and Broadview Security, and Alarm Force), as well as a newer company that I heard about from Clark Howard, a consumer advocate.  I weighed the issues that were important to me, and SimpliSafe clearly came out on top.  Here are the criteria I used to select the service, as well as my experience installing SimpliSafe and my review of the service.
Selection Considerations
Installation: Most of the traditional security systems required hard-wired installation (although most companies offer wireless options for a fee).  I didn't want hard wiring for three reasons: One, I don't want holes in my walls and additional wires running under my floors and through my walls, two I don't like the idea of a contractor spending hours in every room of my house, and three you can't move a hard wired system or easily add components to it.
SimpliSafe was the only cost-effective option that I could install myself without sacrificing the functionality that I wanted in a security system.  As you can see below, I installed the system myself in an hour without a single hole in the walls or cable running between components.
Monitoring Costs: 24/7 monitoring is a must-have, but I was shocked at the prices that the traditional monitoring companies charge.  The lowest price I found was $25/mo, but it required land-line telephone service (which I don't have), a 3-year contract, and it only included THREE sensors (with additional sensors available for $70 each) .  If I wanted monitoring that uses cell-phone signals the monthly price would be over $50 per month!
SimpliSafe only costs $14.99 for 24/7 monitoring and there is no contract.  It is important to note that you do have to purchase the SimpliSafe components up front.  However, the components are reasonable priced ($15 – $30 each), and when you consider the bare-bones packages that other companies advertise, you would ultimately shell out the money for components whether you choose SimpliSafe or someone else.
Long-Term Contracts: Most security companies require a 3-year contract.  That alone is a deal breaker for me.  As the consumer advocate Clark Howard points out, once a company has you locked in for 3 years, they have no incentive to maintain a high level of service and you have no recourse if you are unhappy with the service.
As I mentioned above, SimpliSafe has no contracts so you can cancel anytime if you are unhappy.  They also allow a 60 day period to evaluate the service or get a full refund.
Commissioned Salesmen: It is impossible to get an accurate quote without speaking to a commissioned salesman.  Just try getting an accurate price for 12 window sensors and 4 motion detectors…you'll ultimately end up on the phone with a salesman who will inform you of the imminent danger that your family is in unless you sign up today.
You can see in my experience below that I got a quote and ordered SimpliSafe without having to talk with a salesperson.  However, I did choose to contact them with some questions that they helped me answer without selling me anything.
Ordering SimpliSafe
Ordering can be done completely online, or you can call and speak with a live person if you need assistance.  I ordered my system online, although I did send them an email to ask a couple of questions about the setup process.  SimpliSafe responded to my emails within hours and answered all of my questions.  I was impressed with their quick response, but more importantly I was happy that they never tried to pressure me into buying a system.
To order you can either purchase a pre-built system ($199 – $299, depending on the size of your house) or you can create a custom system.  My house is a 2000 square foot two-story with a full basement.  I wanted a slightly more coverage than the pre-built packages so I customized my order.  I was able to look at the exact cost of the system as I ran through my options (more or less sensors, extra panic buttons, etc.).  My system cost about $500, which included:
12 Window and Door Sensors ($14.99 ea.)
4 Motion Detectors ($29.99 ea.)
2 Keychain Remotes ($24.99 ea., one was free with a promotion)
2 Panic Buttons ($19.99 ea.)
Keypad and Base Station (standard on all orders)
Monitoring ($14.99 per month)
Installation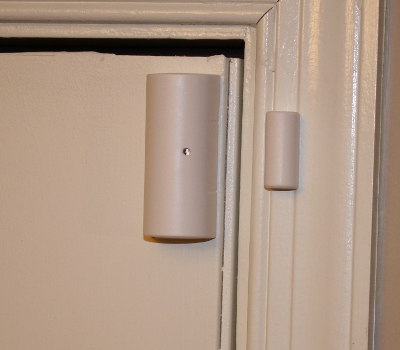 Because SimpliSafe is wireless it is very straightforward to install the system.  All of the components can be mounted one of three ways: using the supplied 3M Command Strips (semi-permanent, removable adhesive strips), using screws through two smalls holes on each component, or simply setting the component on a shelf.
In total, it took me about one hour to install and configure the system (although a fair amount of that time included deciding the best way to keep the components discreetly hidden).  All components have a lithium battery, which lasts 5 years, with the exception of the keypad, which uses normal alkaline AAs that must be changed annually.
Here is how I chose to install my components:
Window/ Door Sensors:  These sensors consist of two components: a larger piece measuring about 1.5 x 1.5 x 3 in, and a smaller magnet measuring 1.5x.5 x.5 in).  The larger piece has a 3M Command Strip and the smaller piece has a piece of double-sided adhesive foam tape.  I was concerned that it these components would interfere with our blinds, but fortunately they are small enough to allow the blinds to open and close without hitting the sensors.
I installed these sensors on 9 lower-level windows and at the top of three doors.  One of the doorways was a French door, requiring about an inch of space between the two components.  SimpliSafe states that the magnet can be mounted up to two inches from the sensor, which I found to be accurate.  None of my windows or doors required a full two inches between the magnet and sensor, but this flexibility would be very helpful in certain difficult situations (gaps in door jams, odd molding, limited flat surfaces for adhesive to stick).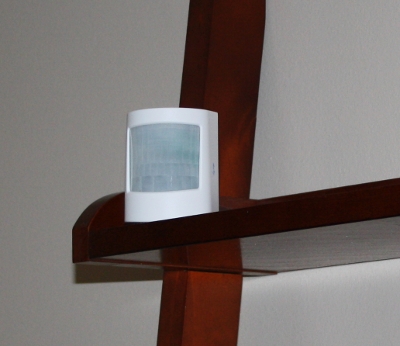 Motion Detectors:  Motion detectors are small cubes measuring 3x2x2 in.  I chose to put a motion detector in every downstairs room – even those with window sensors.  I figured that it would be possible for someone to break a window and enter without sliding it open, thus avoiding the window sensor. The motion detectors add an extra level of protection.  I also put one in the basement to avoid someone coming in through a basement window.  I store my gun safe in the basement.  No garden-variety crook would be able to break open the safe, but I would rather have an alarm send them running rather than have them damage my safe trying to get it open.
The motion detectors can be mounted flat against a wall using one 3M Command Strip, or they can be mounted in the corner using two strips.  In most cases, I decided to forgo mounting altogether and just set the sensor on a shelf.  This way I can move them around as I please and hide them a little more discretely.  I don't have a cat that could knock one over, so it's not a big deal to leave it on a shelf.  I don't have dogs either, but SimpliSafe claims that pets up to 50 pounds will not trip the motion detectors.  You can also mount them in different ways to avoid tripping the sensors (call SimpliSafe to verify this, but I read that you can mount the sensors upside down so the sensor broadcasts out and UP instead of out and DOWN.  This way a larger pet will not trip the sensor but a 6 foot tall person will.  It probably won't protect against army-crawling bad guys who don't care about your 100 pound Rottweiler though).
Panic B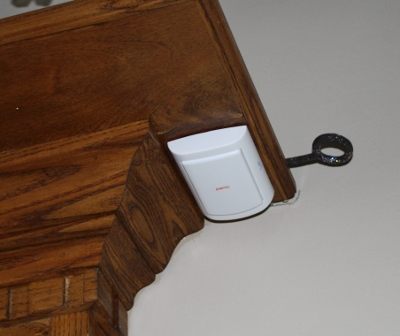 uttons: Panic buttons measure 3 x 2 x .5 inches.  They were a big selling point for me.  If my wife hears something that scares her she can press the panic button and the monitoring service will notify the police.  We put two of them within reach but out of sight.  One is underneath the mantle on our fireplace, and the other is just behind our dresser mirror in the bedroom.  Also, in case you are concerned about the panic button getting bumped, it actually has to be pressed for a full second to go off.
Keychain Remotes: These arm and disarm the system by pressing a button on the remote.  They also have a panic button that we chose to disable (easy to do during the setup process) so our baby's little hands didn't send the cops to our house each time she finds the keys.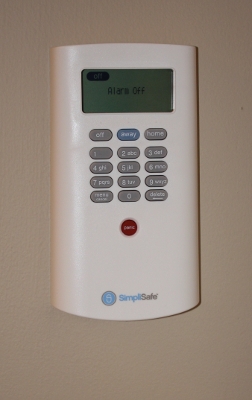 Keypad: The keypad, which measures 6.5×3.5×1 in, gets mounted with two 3M strips.  It has a backlit display which is relatively easy to read, although it wouldn't hurt if the display were larger.  They keypad has a chime that notifies you when the alarm has been activated, although the main siren is located in the base station.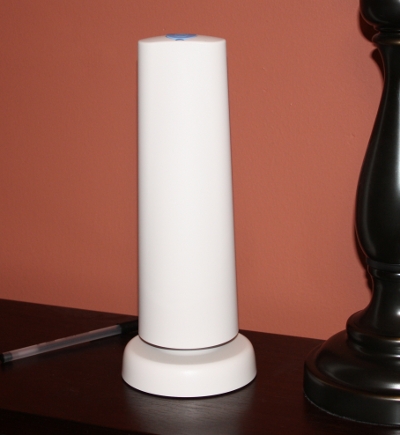 Base Station (Siren and Transmitter): The base station is the heart of the SimpliSafe system.  It is a cone about 11 inches high and 4 inches wide, and it sits on a flat surface such as a desk or table.  The base station houses the cell phone transmitter as well as an 85 Decibel siren.  The base station is the only component that must be located near a power outlet.  Even though it is powered via a cord, it contains a rechargeable battery, allowing your system to operate even if power is cut to your house.  You will know your SimpliSafe system has a strong cell phone signal by the brightness of the blue glow at the base of the cone.  We keep the base station in a room within earshot of keypad.
The main siren is housed in the base station.  At 85 Decibels (about the volume of a lawnmower), it is definitely a deterrent for an intruder.  However, if you want the siren to get your neighbors out of bed to check on you, it would probably be a good idea to add the optional auxiliary siren, which is about twice as loud.
The base station also gives audible commands, such as telling you that the alarm is armed or disarmed.  We like the fact that it chimes when a door is opened, which would be helpful to know if a child opened a door.
Setup: After mounting all of the components I plugged the USB end of the keychain remote into my computer as directed.  The setup wizard recognized all of the components in the system and allowed many customizable options.  I was prompted to set up pin numbers, a secret word (to cancel the alarm if it goes off), a duress pin number (that silences the alarm, but still calls the police), two people to call to cancel the alarm if it goes off, and up to 4 people to call if the alarm goes off (they can't silence the alarm but they could come check on the house).
Tripping the Alarm:
Once a sensor is triggered there is a chirping sound for 30 seconds.  During those 30 seconds you can enter the pin number and deactivate the alarm.  If you do not enter a pin the base station begins to wail for 4 minutes and a signal is sent to the monitoring station.  The monitoring service calls you and deactivates the alarm if you give the magic word.  However, if you do not answer or you do not give the magic word, the monitoring service will dispatch the police to your house.  SimpliSafe does not have a charge for false alarms, but many police jurisdictions will charge a false alarm fee.
Final Verdict:
I am extremely happy with SimpliSafe – to the extent that I would spend hours writing this review.  I was so impressed at the simplicity of ordering and installing the system, and I was very grateful that there were no deceptive "promotions" or pushy salespeople.  This is truly a revolution in home security monitoring and a reason for the traditional security services to be very concerned.