In a previous post on cheap safes, I discussed rather extensively the value that you get from Winchester gun safes.  Though their safes aren't terribly inexpensive (no respectable safe is), they tend to offer a high level of quality at a very reasonable cost.  Their products run the gamut from the eVault series, which are exclusively handgun safes, to their Legacy series, a line that boasts an available 51 long gun capacity.Winchester has been a trusted name in the firearms industry since 1866, when Oliver Winchester released the Model 1866, the .44 repeating rifle that will forever be a symbol of "how the west was won".  Since then, they've expanded their product line into a more extensive production of firearms, ammo, and, of course, the old reliable Winchester gun safe.  Winchester safes are produced by Granite Security Products out of Ft. Worth, Texas.  Granite has been upholding Winchester's formidable quality standard by creating gun safes that not only function dependably, but offer that unmistakable western charm as well.  You'll notice below that every Winchester gun safe lock (with the exception of the personal eVault series) is operated by an old-time spoke vault handle.  If you have to hide your guns behind a steel door, it should at least look pretty, right?
Every full size Winchester gun safe comes standard with a beautiful powder finish, an interior with convertible options, and a 30 minute to 1 hour fire resistance rating (depending on the series).  Additional features are also added, based on the model, but nearly all come covered with a lifetime warranty against manufacturer defects, as well as fires and burglary.  Allow me to continue with an explanation of each series.
eVault

Evault, the Winchester handgun safe series offers a line of personal products, designed for unobtrusive, quick access storage of your pistols and small valuables.  And for being as light as 9 lbs, the protection isn't too shabby on these things.  I wouldn't cash out my savings and store it in one of these, but for keeping the kiddies out of your pistol(s), the eVault more than serves its purpose.  It's not just the kids though – if you're unfortunate enough to have a break in, you don't want the burglar to gain access to your boxed up treasures either.  Though it's a far cry from burglar proof, the recessed, pry resistant door, as well as the solid 16 gauge steel exterior will keep most crooks busy for a while.  Evaults additionally come with the option to secure the safe with a security cable.  Strap it to a heavy object for even further protection.
These handgun safes offer no-look entry by means of an electronic lock.  I store my S&W M&P .40 in one of these suckers, and I can personally attest to the no-look claim.  Every model has four buttons on the top, in which you program a four-sequence combination for gaining quick access.  You can literally open one of these in a second or less.  A couple bumps in the night have proven their speed access to me.  All the safes have an LCD on the top to display the lock status, as well as if the lock down system has taken effect as a result of too many failed entry attempts.  Should you get locked out, forget your combo, or lose power without your battery backup, keyed entry is also included for redundancy.
There are three models available, all of which include an interior light, and a durable thin foam padding.  The EV400 (9 lb), EV600 (13 lb), and EV1200 (15 lb) are mainly differentiated by their size, EV1200 being the largest.  Although I can store a compact M&P in my EV600, it will also easily stow my Springfield 45ACP Tactical XD as well.  The EV1200 includes two shelves, which makes storing two to three pistols, as well as additional ammunition no trouble at all.
Tradition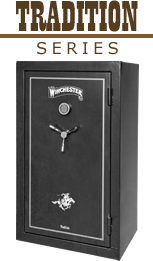 The Tradition series was featured in my cheap gun safes article.  Although it isn't the least expensive line on the market, you get exceptional value for a price as low as $700.  As previously mentioned, all Winchester gun safes come standard with fire protection.  The level of fire resistance is determined by the model.  The Tradition series offers the least amount of fire protection at 30 minutes in 1200 degree Fahrenheit, which is head and shoulders above many other "low cost" safes on the market.  The key feature in fire protection in all Winchester gun safes is the Palusol door seal.  Under high temperatures, this non-ignitable foam will expand, creating a seal and temporarily protecting the contents of the safe from smoke and fire damage
I also mentioned earlier that all Winchester gun safes come with convertible interior options.  This means that while the middle model, the T-19, can hold a maximum of 24 long guns, that number is essentially cut in half when you install storage.  Most experts agree that when buying a gun safe, you should always purchase a storage capacity more than you currently need to allow for future growth.  That said, if capacity for a dozen rifles is adequate for you, you'll love taking advantage of the Winchester safe storage shelving.  The convertible interior allows you to keep your shooting accessories, ammunition, pistols, photo albums, and miscellaneous valuables safe and organized alongside your arsenal.  The T-15 hold up to 12 guns, the T-19 at 24, and the T-30 at a 30 gun max capacity.
The Tradition is available in three sizes, the T-15 (390 lbs), T-19 (455 lbs), and T-30 (600 lbs).  The T-30 boasts 10 1 1/4″ bolts around the door making a pry attack nearly impossible.  The Winchester gun safe lock on all of these models is currently governed by the Granite Security Products' (GSP) electronic keypad.  An old fashioned rotary dial lock is the most dependable in my opinion, but as long as you keep track of the combination, keep fresh 9V batteries in the lock, and change your combination regularly, the keypad is a fantastic feature.  Once unlocked, the Tradition safe is opened with a Western style, three spoke vault handle.  Very slick.
Legend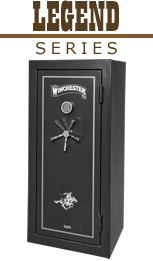 The Winchester Legend series is very similar to its sibling, the Tradition, with a few differences.  First off, it's a just bit more expensive.  Like I said before, the Winchester gun safe price is very competitive, particularly in this model.  You can usually find them at anywhere from $850 to $950, and slightly higher price tag is for good reason.  Though it only comes in one available size (525 lbs – 24 gun capacity), it offers some additional security features that the Tradition doesn't.
For one, it has a 1200 degree fire rating for 45 minutes.  That 15 minutes can make a huge difference when all of your valuables are facing destruction.  In addition to the added fire resistance, a burglar is going to have a bit of a tougher time gaining entry to this sucker.  Where the Tradition had 8-10 bolts around the door, the Legend is secured with 12 1 1/4″ bolts.  The Tradition also had a one-way active bolt system, which is great, but the Legend offers a three way system.  In the case of the three way active bolt system, hinged bolts along both sides, as well as the top, all work in motion together to open the safe.  This adds much greater protection from drill attacks.  Of course, the feature you'll quickly notice just by looking at the thing is that it has a five spoke handle (not three) in the middle of the door.  She's a beauty!
The Legacy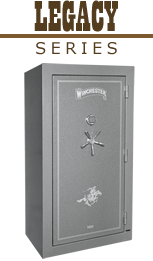 The Legacy series is a top of the line gun safe no matter how you compare it.  Though you definitely pay a bit more (the L-45 series can easily run you $1500), you get a whole lot more.  You'll quickly notice the aesthetic differences between the Legacy and the two aforementioned models based on the exterior and interior.  On the outside, this gun safe is covered in either a black or granite powder finish.  The interior sports a full host of extra convertible organization, particularly in the L-45 model, which has a max capacity of over 50 rifles and shotguns!
The size and capacity of these beasts vary greatly depending on the model you choose.  The L-14 is 455 Lbs with a 14 gun cap, the L-22 is 595 lbs with a 24 gun max, and the previously mentioned L-45 weighs in at 980 lbs, holding a whopping 51 guns.  Considering that nearly any safe expert will determine a 750 lbs gun safe to be adequate in removal prevention, this safe's nearly 1000 lbs frame should be, well, more than adequate.
Though the size and aesthetics are indeed impressive, you pay for the protection.  The Legacy series offers triple layer insulation protection on both the door and body, as well as a 1200 degree fire rating for up to a full hour.  All of the safes come equipped with an unprecedented four way active bolt system on all sides.  The bolts included on the Legacy series are also a bit more substantial than those included around the doors of the Legend and Tradition.  Where they measure in at 1 1/4″ in diameter, the Legacy bolts are a meaty 1 1/2″.  It doesn't sound like much, but it makes a big difference…especially when you have 18 of them!  That's right, the 45 model has 18 bolts surrounding the door.  This is the monster of the Winchester Gun Safe lineup.