I just picked up a little Stack On gun cabinet last week (an eight gun GC-8RTA) to keep a couple long guns in the bedroom closet.  Not much for burglar-proof security, but I wanted to store a couple shotguns close-by without the little girl getting into them, and Gunsafes.com had them pretty cheap.  You can buy one here if you're looking for one.
Like any good security cabinet, it came in a cardboard box in several pieces, so I spent an hour or so last night putting it together.
If you don't have the instructions, and you want to follow along at home, you can find them here:
Stack-On Instructions
For the most part, the instructions were pretty helpful, but there are a couple quick points I'll point out just in case you find yourself stuck anywhere.  Most of my commentary is common sense, but if you happen to find a gem that helps you out…I'm glad.
I suggest you pop in a good movie to watch during the assembly.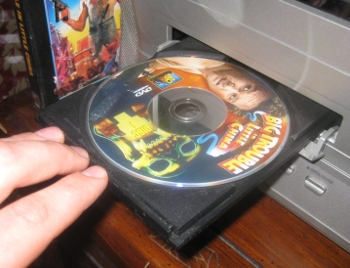 Make note of the key and serial number (which you can find on the back piece), and don't lose them.  If you ever misplace your key, you'll need to have those numbers to get a replacement from Stack On.
Under "Helpful Hints", they recommend you hand tighten all the bolts until Step 4.  I highly suggest you take their advice (this genius had to back through and loosen everything back up again).
A small 7/16" socket is recommended.  A screwdriver socket adapter worked really well for me.  They don't mention it in the instructions, but a small pair of pliers are also pretty helpful when you get to Step 7.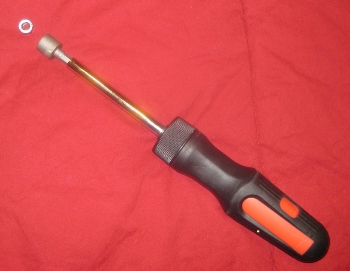 In Step 5, when putting the cabinet door on, if you're doing it by yourself, it's light enough that you can use your foot to keep it stable while you put the first few bolts on.  And make sure you keep the door open because this sucker likes to swing closed and pop the bolts out.
You can install the door to open on either side of the cabinet.  If you install the hinges on the left, the sticker on the inside will be upside-down.  Don't be alarmed; the sticker-putter-onners may discriminate against left-handed access, but it's impossible to actually install it upside-down.  For the record, the lock hole measures exactly in the middle of the door.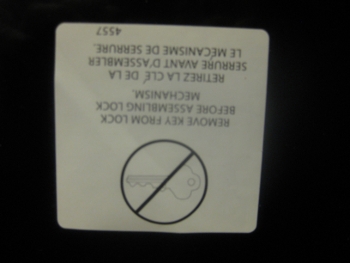 I don't know why, but Step 7 was a huge pain for me.  I couldn't get the locking bars to retract enough to close the door.  To get it to work, I pressed the center plate firmly against the door while I tightened the big nut to the washer.  Step 6 says to hand-tighten the assembly (which you should until you install the bars), but they never instruct you to tighten it up again…don't know why not, but tightening it firmly worked well for me.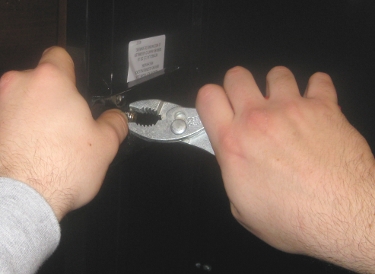 It's not mentioned in the manual, but the two little black caps in the bottom of the bag fit into the two holes at the top of the cabinet.
They recommend sticking the foam gun rests 36" up the wall.  I recommend measuring the guns you're adding to the cabinet and adding it accordingly.  A pistol-grip 18" barrel shotgun will fall very short of the foam rest.
You'll notice that I didn't mention anything about mounting it.  While I strongly suggest anchoring an actual gun safe to the floor for theft prevention, this thing is a lightweight gun cabinet; they give you the hardware to mount it if you want, but the door could be ripped off with a claw hammer standing or not…I didn't bother.