Since I started GunSafeHaven about a year ago, I don't think there's been a single post where I haven't mentioned the importance of protecting your firearms from jerkoff crooks, blazing fires, and curious kids.  If all of these weren't legitimately concerning threats, there wouldn't be a gun safe industry, and worse, there wouldn't be a GunSafeHaven (I'm sure you'd all be very broken up over that).
Floods, fires, and burglaries, as implied, are all possibilities, but statistically, you could easily live your life avoiding all three (though I don't advise risking it).  There is, however, one threat that every gun, knife, truck, and tomahawk owner will always be forced to reckon with.  That force, my friends, is rust.  I feel like I've done my readers (hey Ma!) a disservice by only mentioning it in my last post on gun safe accessories…sorry.  Corrosion is a dirty wench – do what you can to keep her the heck away from your guns.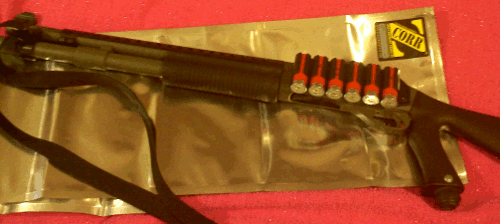 A couple weeks ago, a fella named Travis left a comment on my safe accessories post to bring to my attention, the latest and greatest product in firearms corrosion prevention; the ZCORR (Zero Corrosion) weapons bag.  I checked out their site, had a short email exchange with the company, and picked up a bag to try out for my Remington 870 (seen in picture…with the pink glittery blanket).
Now, I've only had it for two weeks, so I can't exactly offer you a full-blown case study, but based on my findings, I don't think Travis was full of crap.  It looks like the real deal.
Heritage Packaging, ZCORR's parent company, was contracted by the Marine Corps to design them a durable, rust preventative bag to store their world-class collection of M-16A2s.  The product was required to be able to withstand extreme temperatures, radical temperature changes, and disgustingly thick humidity levels.  Tested from -40 to 160 degrees F temperatures and 0-95% humidity levels, there isn't a place on Earth the Marines can't safely stow these babies (and there isn't a place on this Earth those God-blessed Marines don't go).
So, what does every company that experiences resounding success with a government contract do?  Why they take it to the public marketplace, of course!  Heritage did just that with ZCORR, and I gotta say, I've never been so excited about a bag before (unless you include those "special bags" I used to buy back in college ;)).
ZCORR uses VpCLs (Vapor Phase Corrosion Inhibitors) and their own blend of designer packaging to create a barrier within the bag that can protect your gun from rust for up to 20 years.  Just clean it, put it in the bag (looks like a big emergency blanket, but a helluva lot thicker), and seal up the Velcro opening.  They report that if it's a weapon that you use on a weekly basis, the said 20 years duration may be closer to 5…still though, if it works like their military usage suggests, $11.99 spent on a ZCORR bag is a lot less than the cost of the gallon of Hoppe's it's going to take to keep the rust off your gun for the next decade…that's how I see it any way.
They currently make the product in three sizes; Tactical Weapon (14" x 49"), Universal Pistol (11" x 15"), and Universal Rifle/Shotgun (11" x 54").  Again, I got the shotgun bag for my 870.  It has a shorter barrel, so it doesn't come anywhere near to occupying all of the space inside the bag, so I'll likely squeeze in some extra shells, a couple blades, maybe even a Mag-Lite — ZCORR says these suckers are built to keep the rust off of anything metal.
Anyways, I'm done with my rant on rust.  If this site's still around in 5 years, I'll throw up another picture of my shotgun to show you how much rust it still doesn't have on it.  Thanks for the tip, Travis!