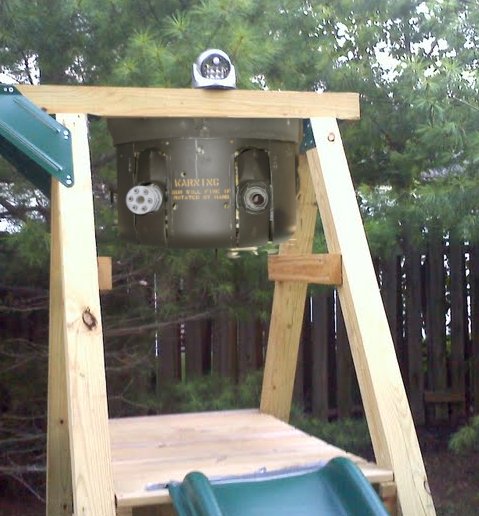 During my home defense project, I purchased several Fulcrum wireless outdoor motion sensor lights.  I installed a couple underneath eaves in the back, one over the garage, and another around the front corner of the house.  My objective was to cover the perimeter of the house, and I completed it successfully.  I had purchased an extra light for the project, thinking that I would need five to cover all the sides, but since four did the trick, it just sat in a box for a month.
A few weeks ago, for my daughter's birthday, I picked up one of those Home Depot swing set kits…the ones that only cost $300, until you find out you need to buy an additional 200 lbs of lumber, an extra swing and a slide.  Anyways, I dropped some cash, put it together, she loves it, and I, of course love that she loves it.
Well, a couple days ago, I was in the backyard, pushing her on the swing, when it dawned on me; I can mount that extra light to the top of the swing set!  I bought the playground–there's no reason I can't have fun with it too, right?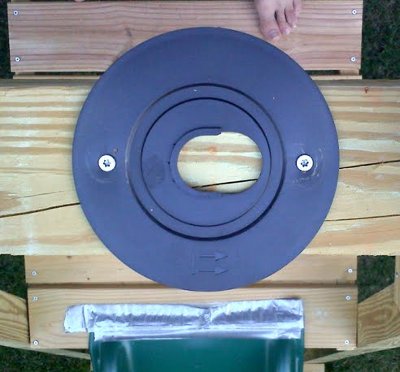 As I mentioned, the motion sensor lights are simple to install, and since they can be mounted on virtually any surface, driving two screw into the 4×4 crossbeam was cake.
Now when someone steps into the center of my yard at night, they get caught in an LED crossfire.  There's a 25 ft2 sweet spot in my backyard that triggers three lights at once, lighting up darn near the entire lawn.  It looks like a night game at Wrigley field…my neighbors just think it's terrific.
Not a whole lot more to the story here–just an example of the fun you can have when you get creative with spare security resources.
Stay safe!
Provide instant security to your front portion with the ultra bright Fulcrum Motion Sensor Light.