All of the gun safe orders referred to in this post are processed through Amazon.com to ensure the best deals and service
People don't generally associate Walmart with quality products. I don't anyway. Usually when think of the mother of all mega stores, I think of a bunch of trailer trash going crazy for crap that's inexpensive for questionably unethical reasons (I shop at Walmart, so I'm allowed to say that, right?). For this reason, the title of my article may sound a little odd. Why would you ever be interested in WalMart's gun safe inventory? For the same reason people shop at Walmart in the first place – they're cheap prices are next to unbeatable (and they offer free shipping and installation on their safes when you buy online).
Sure, just like anything they sell, among the stuff worth buying is a mound of garbage (in this case, several hundred pounds of steel garbage), but there are a few diamonds in the rough. I should note, however, that Walmart doesn't sell top-of-line gun safes. If you're looking for a safe with a 4 hour fire rating or UL TRTL-60 security marks, you'll have to look elsewhere. But if sub-amazing quality fits your bill, you can still get away with a decent safe from the store. A couple people have emailed me asking if there are any quality Walmart gun safes for sale. The answer is, yes, there are, but you'll probably have to order them online, as there are very few stores with a well stocked inventory of good ones. Here are a few that they offer which, in my opinion, are worthy of consideration.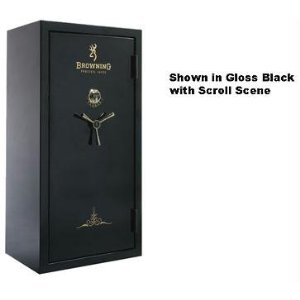 Browning makes some of the finest gun safes on the market. Though this $1749 model from their Bronze Value Safe line is far from their greatest in protection, it's not a bad deal for the price. It has a good, not great weight of 700 lbs, but when couple with the anchoring bolts, it should still be a difficult force for a burglar to move or topple over. It has a semi-respectable 45 minute fire rating, which along with damages done by burglary, is covered by a lifetime warranty to the original owner. The security features are average, but again, this isn't a $6000 Browning Platinum Plus safe either. It has a 12 gauge steel body thickness, which is still a little light for my taste, but the door locks with 12 1″ bolts, six of them active. Browning, of course, features UL rated S&G locks on all of their safes, including this one, and this Bronze Series model locks up with a tried and true rotary style lock face. Can't go wrong there. With the majority of the shelving removed, this model can stow away up to 39 rifles and shotguns, and the featured DPH storage system allows you to easily hang handguns on the inside of the door. This is a decent little safe for the money.
Stack On 45 Gun Total Defense Select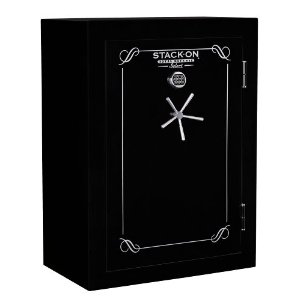 This model is not only one of the nicest gun safes Walmart carries, but it's one of Stack On's as well. As I've mentioned in my previous article on Stack On safes, I'm not exactly blown away by their products. That said, this model in particular offers a lot of nice features at an attractive price of $2200. It has a well-tested ETL fire rating of 30 minutes at 1400 degrees F covered by a lifetime warranty to the original owner. It offers seven 1″ action locking bolts as well as the additional three solid bolts on the hinge side of the door. I think Stack On lacks a bit in security, but they do, however, offer a lot of nice extra bells and whistles. For instance, it's rated with 72 hours of flood protection to prevent its fully carpeted interior from getting wet (along with your 15, 30 or 45 guns – depending on your personal shelving configuration).
Mesa Safe Company 13-26 capacity gun safe (Model 22 shown below)

This is arguably the flagship of Walmart's line of gun safes. Mesa definitely isn't the number one trusted name in securing valuables, but they aren't too shabby either. They have a wide line of safe models in the realm of everything from hotel security to business protection, but the MSC1031 is one of their finest in home security. This big fella is listed at a respectable 760 lbs lbs, making it pretty difficult for your average thug to budge, once bolted down with its pre-drilled frame for anchoring. Its two inch, steel-lined walls help provide a decent 1 hour UL fire rating. Though I would like to see a few more for this price, the door of the Mesa is surrounded by seven 1.5″ long, 1.5″ diameter steel bolts, to help guard against the ever-common pry attacks.
In addition, the safe comes equipped with relockers (internal, not external) and drill resistant hard plates, similar to what you'd find in more premium lines. Fully convertible shelving allows you to store anywhere from 13 to a respectable 26 long guns. Mesa's warranty for this product covers lifetime protection to the original owner against fire, burglar, and constitution damage, and the safes slick glossy finish and 5 spoke wheel makes it pretty nice on the eyes as well. It's a little pricey at Walmart's price of $2,690, but free shipping and installation of an 760 lb gun safe is nothing to shake a stick at either.
Again, WalMart has some great prices and often killer shipping deals, but safes are a significant investment, both in price and in safety – just make sure you do your homework when shopping for gun safes – don't jump the gun too early (pun!).