Keeping your belongings properly secured in a gun safe requires a number of elements all working together in harmony.  First, you need to employ your smarts – pick an ideal location for installation (here's an article on gun safe installation I wrote a while ago, and another explaining where to put it).  It's also incredibly important, and often underrated, to anchor it to the ground.  In addition, you need a decent lock – here's another article explaining what a decent safe lock is all about.
There are several other factors that play a role as well – a few well-placed Bouncing Betties around the safe's proximity can work wonders for your burglar problem.  That said, one of the greatest facets of safe's security effectiveness is its thickness…in the safe industry, it's all about girth.
Of course, we're talking steel here, not fluff.  There are a ton of manufacturers out there who would love for you to think that their advertised three-inch thick safe walls are made of solid steel.  In most cases, the bulk of that three inches is just concrete filler – in residential models, it's very rare to find a gun safe with steel walls thicker than a 1/4", and that includes the majority of premium models.
In most of the cheaper models, you're looking at a significantly lighter frame.  If the safe has three-inch walls, and it weighs less than an elephant, it's not solid steel.  If you can break through it with a sharp fire axe…it's not solid steel.  Steel's heavy, it's resilient, and steel is expensive – that's why the following model that I'm awarding the title, "Thickest Gun Safe", is such a gem.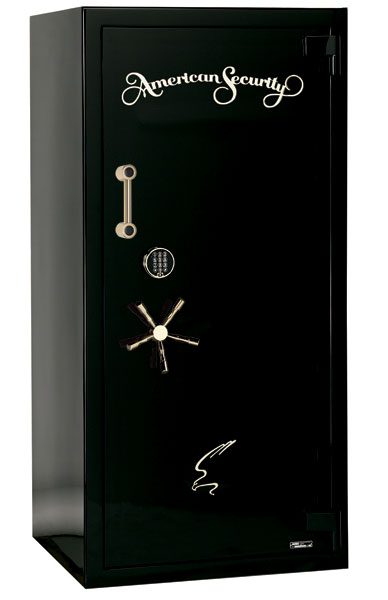 American Security (better known as AMSEC) has been in this business for over six decades.  I'm not going to go into details on their company history because you're probably upset with me as it is for not getting to the point already.  Just know that their massive line of security products – ranging across drop boxes, personal safes, vault doors, wall safes, floor safes, and of course, gun safes are hot sellers as they have a few quality units in their repertoire.
The AMSEC RF6528 (rolls right off the tongue) is our winner today because at 1" of solid plate, this sucker dawns the thickest steel.  Smaller outfits like Graffunder and Brown can build a heavy hitter boasting similar specs for you, and if you travel into the world of bank-grade security, you'll surely find thicker units, but this is [as far as I'm aware] the thickest mainstream-manufactured unit on the market to be billed as a "gun safe".
So, you might be asking, "why is a measly inch significant?".  Here's one way to look at it:
The RF6528 is advertised as having the capacity to hold 30 long guns.  The Liberty Centurion – a slick little safe I've discussed on this site before – resembles the AMSEC very closely in dimensions, allowing 28 long guns to be store within its walls.  The Centurion is built with 12 gauge steel, which is common among less-expensive safes (under $1000), and weighs in just under 550 lbs.  Our AMSEC model tips the weighing station scales at almost 3500 lbs.  That's over six times heavier – due almost entirely to the thicker material.  While the Centurion definitely isn't the flagship of Liberty's fleet, using it as an example really puts into perspective how much of a beast the RF6528 really is.
So, what else does an inch of steel plate get you?  It gets you a TL-30 rating from UL.  To earn this, UL sicked their safe crackers to try to break into this thing, and failed…at least within the 30 minute time frame.  For a consecutive half hour, professionals attacked this thing with everything from sledge hammers to power saws, and didn't gain access.  UL won't even listing it as a TL-30 unless it boasts at least an inch of steel.
While the rating only applies to the door (the TL-30×6 rating covers the whole unit), smart placement, as mentioned previously, will make this safe all but impossible for a team of neighborhood scum to get into.  If I had one of these, I'd anchor the sucker down (always a must), and nest it into the cement wall in my basement, only exposing "access" to its extremely resilient door.  Of course, the rest of the unit can also take a solid beating – I'm just a knucklehead who likes to do it the hard way.
So that's my decision – this AMSEC High Security unit brings the ultimate in gun safe thickness, earning it a spot in Gun Safe Haven's Best Gun Safe Superlatives.