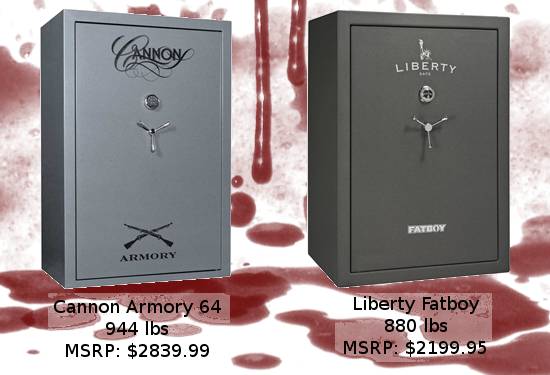 Cannon and Liberty; two longstanding, highly regarded American safe manufacturers who've both managed to churn out hundreds of thousands of residential security containers over the last several decades.  While both companies have a rather extensive line of security products, two stand out the most in the realm of high capacity gun storage; the Cannon Armory 64 and the Liberty Fatboy.
Capacity:
Americans have the blessed right to, not only own dozens of guns, but to safely secure them as well.  Both of these fat bastards offer interior roominess as a main selling point, allowing that said right to be realized, so we'll start by evaluating capacity.
Let's begin with the Liberty Fatboy.  They're darn near as large as their explosive namesake, and nearly as iconic; you can find a Liberty Fatboy in almost any major shooting supplies store in the country.  With an advertised capacity of 64 long guns, the Fatboy is basically a bloated Liberty Franklin (the Franklin 50 has a said 41 gun capacity).
The Cannon Armory 64 is one of the company's newer products, and by far their biggest.  Cannon claims that this monster can fit 80 long guns in its lint-free upholstered belly.
As it's well-known, especially by safe owners, you rarely get the advertised capacity out of your unit unless you either have the world's largest collection of Ruger 10 22s or you customize with space-saving accessories, like rifle rods.  That said, two things are clear; both of these mammoths can lock up a lot of firearms, but with a rougly 25% larger  interior, there's no doubt the Armory boasts the most storing potential.
Edge: Armory 64
Body:
Both of these companies employ American manufacturing (with rare exception), and build their products with American steel, which, as I've explained in detail in a previous post, puts them in a class above most Chinese and Mexican units on the market.
Both units are constructed with the proverbial uni-body design and continuous welding, giving each a nearly seamless constitution.  It would be a bad idea to store your massively expensive gun collection in a cheaper, stitch-welded, built-to-bust unit, but both of these models meet the basic criteria of a well put-together RSC.
That said, we'll cut to the chase; the Fatboy's 11 gauge steel body trumps the Armory's 12 gauge thickness.  In addition, the Liberty's door is slightly thicker.  Innuendo aside, it's not always about thickness, however, both products are built pretty solid and someone needs to win.
Edge: Fatboy
Locking:
UL Group II listed combination locks guard our two contenders' doors, which is has become a standard among both the companies who manufacture them.  The Fatboy's active locking bolts are ¼" thicker than the Armory's (both on three sides of the door), and while integration is more important than thickness, the Cannon might just say "uncle" to a pry bar first.
Of course, locking bolts are only a small piece of the pie.  Both containers are outfitted with adequate drill-killing hard plates, and multiple relockers to further stifle punch and drill attacks.  The Fatboy, however, uses Liberty's DX-90 Monster Mech locking system.  No, I'm not about to give the edge to Liberty because their mechanism has a cooler name than Cannon's (it does though)–I just happen to think the DX-90 design is a smoother operator.  It does a more efficient job of allowing the door to stay open and closed when you need it to (more on the Monster Mech).
Edge: Fatboy
Fire Protection:
Both of these companies put ok effort and material into building their products with decent fire protection.  Of course, advertised fire protection in the gun safe world is even more flaky than alleged capacity.  While neither are UL-rated fire safes (I can't think of any RSCs that are), Cannon employs Intertek ETL, another third party, to do their testing.  This isn't to say that Liberty's in-house crew is guessing instead of testing (it definitely happens elsewhere); their BTU rating system is nearly as comprehensive as it is marketable, but Cannon is subject to an outside company's restrictions, not their own.
Both safes are insulated with thick fireboard, a material that meets the expectations of the price point.  Given that the configuration of materials are nearly identical between these two, you have to consider the natural advantage the Fatboy's smaller interior dimensions have against overall heat resistance, not to mention its thicker steel walls.  Unfortunately, I've never witnessed a Liberty vs Cannon burn test, so I can't truly attest to the accuracy of the Fatboy's 1 hour rating, or the Armory's half hour, but given the circumstances…
Edge: Fatboy
Warranty:
Both safes are backed by some of the best on-paper lifetime warranties in the business.  This post links to the location of both manufacturer's warranty details (scroll to the bottom), which you can read on your own, but in short, they both cover repair and/or replacement costs (including freight) of the safe at no expense to the original owner.  Of course, be aware that the contents of the safe aren't covered, proper home insurance policy information is required, and while "manufacturer defects" have lifetime coverage, locks and labor are only covered for a year (based on my interpretation of both warranties).  The aforementioned considered, they're both still very solid.
As prefaced, everything thus far is my interpretation of what they offer on paper, however, individual experiences may vary.  I follow Michael Bane's blog from time-to-time, and a couple years ago he posted his general disgust with the way Cannon handled his warranty claim (you can read about it here).  Over the subsequent months, the dust eventually settled, amends were made, and he basically let them off the hook.  This series of events happened over two years ago, and it very well might have been a fluke on Cannon's part, but it still makes me just a bit weary of giving Cannon's warranty my undying endorsement (if you're reading this, Mr. Cannon, my endorsement isn't worth much anyway).
As far as Liberty's concerned, try to search for a case where Liberty screwed over a customer and didn't fix the situation properly.   The few reports I've been able to turn up have been a case of the customers not familiarizing themselves with the agreement.  Has Liberty ever screwed up in the customer service department?  Probably–just not on my watch.
Edge: Fatboy
Interior Features:
Both models are lined with upholstery–nothing special, but what else do you need?  Both include LED lighting, which is a must-have.  The Armory touts some cool hi-tech features, like an integrated network jack and USB hub.  It also has an additional internal power outlet over the Fatboy.  These features gives nerds (I'm a nerd, so I can call us that) the opportunity to secure our computers behind a steel enclosure, while still allowing remote network access, and a fully charged battery–just make sure, if you use this feature, you keep the humidity regulated and the heat down.
A nice perk included with the Fatboy is the door accessory panel.  Accessory panels allow you to store pistols, ammo, and shooting supplies on the door, saving additional space for your long guns.  These can retail for over a hundred bucks, so it's really a nice throw-in.
While I absolutely love the door panel, I have to hand it to Cannon for their "cutting edge" geeky efforts.
Edge: Armory 64
Conslusion:
So which is the better behemoth?  The Armory takes the cake in capacity–no question–and because sheer size is the primary consumer draw to both models, it's an important factor to consider.  That said, even though Liberty came away with a small margin in my categorical analysis, for my money, better security and service outweighs the inability to store 16 extra guns.
Winner: Fatboy