It should go without saying that being the webmaster of a site called 'Gun Safe Haven', I have a mighty appreciation for gun safes. That said, I freakin' hate burglars, fires, and floods. If it weren't for those foul beasts, the only element I would have to fear around my firearms would be my kids. And I would have a beautiful, custom made, oak gun cabinet standing magnificently in my entry way, showing off my prized pistols, rifles, and shotguns. What I don't think a lot of people realize is that there is a huge difference between a gun cabinet and a gun safe.
Gun safes are primarily built for security, while good looks fuel the value of a gun cabinet. Of course, there are exceptions to both rules – steel fortresses like Ft. Knox gun safes are typically packaged in stunning high gloss finishes, standing beautifully like a newly waxed muscle car. On the flip side, not all gun cabinets are the wooden works of art that we typically associate with their namesake. Gun cabinets also come in a steel variety, designed primarily with price in mind. Through deceptive presentation and clever marketing, storage units like Homak and Stack On gun cabinets are often presented as formidable forces against fires and break ins. Though they're wonderfully cheap, any thief worthy of calling himself so, won't have any trouble ripping the door off.
As previously implied, gun cabinets create little protection for your valuables. Unless your children are hooligans, they likely won't destroy your glass display to gain access to your gun collection. Burglars, however, probably won't share the same respect for your belongings that your lovely children do. It doesn't take much imagination to realize that a gun cabinet isn't a good investment if your primary concern is break in protection. And I'm not even going to waste my time explaining why wooden gun cabinets don't hold up terribly well to floods and fires.
Additionally, this may just be personal opinion, but if you're going to spend $1200 on a custom crafted piece of furniture, you're not going to want to stuff it full of tactical shotguns with synthetic stocks, high capacity bull pup rifles, and street sweepers. You're going to want to match the contents with the frame. This is one reason I don't own a gun cabinet. I have nothing but "assault weapons", and they just wouldn't look right on display. My father in law, however, has a collection of beautiful "old western style" firearms that look incredible in his red mahogany gun safe.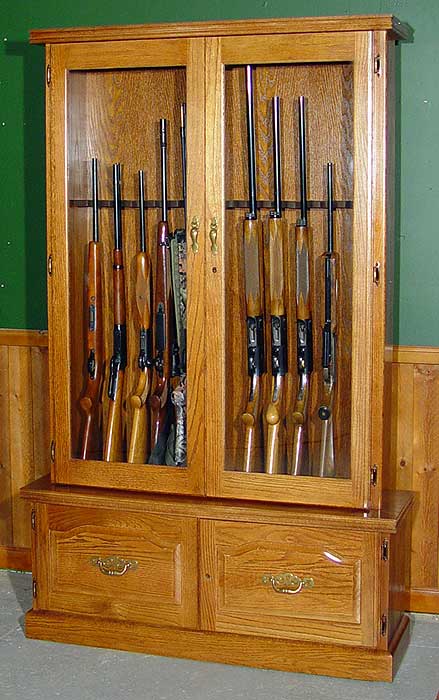 Premium gun safes are masterpieces in their own right, but gun cabinets are truly works of art. Wood gun cabinets run the pricing gamut between the cheap American Furniture Classics models that they sell at WalMart all the way up to the $650 you may spend on a 20 gun cabinet from a quality name brand like Scout. Gun safes lost their mainstream steam a few decades ago, but of the remaining high yield production cabinet makers, Scout is the leader. They offer multiple capacity units including 6, 8, 12, and 20 gun cabinets, in several natural materials from rustic pine to solid oak. And although there's absolutely no problem with purchasing your wooden gun cabinet from a mainstream manufacturer like Scout (barring you're familiar with the aforementioned security limitations), if I were going to drop a dime on some firearm furniture, I would go with a custom gun cabinet.
The beauty of a gun cabinet is only limited by the craftsman designing it, and there are some folks out there whose woodworking magic has no limits. Though I've never had the pleasure of meeting the him in person, Tom, the man behind Handcrafted Traditions, has put together some simply gorgeous cabinets. He charges a bit more than the run of the mill, but if you want a one of a kind stage to proudly display your gun collection, I would strongly recommend checking out Tom's work. If you're going to spend $1400 to show off your 18 finest firearms, you might as well do it properly.
I'll close with one more note on the steel gun cabinets that you'll often find in major sporting goods stores. You may go into Dick's and purchase a $200 Stack On gun cabinet and walk out thinking that you just invested wisely in a great way to protect your valuables. Folks, I wish it was, but this just isn't true. Not that you don't have to be on the look out for garbage gun safes as well, but nearly all gun cabinets are going to be next to worthless for serious gun protection. If you're cool with that – if you just want a cheap, clean, organized way to keep your guns out of your kids' hands, more power to you. Just don't expect a Homak to stop an experienced burglar for more than 30 seconds.
If I didn't quite quench your thirst for firearms cabinetry content, a buddy of mine has a great site exclusively covering information on gun cabinets.  If you get a chance, check him out over at over at Home Gun Cabinet, and tell him I sent ya.