What is a gun safe?
You're right if you said it's a lockable security container where you keep your guns. However, you're also right if you said that it's the product of masterful steel craftsmanship, coupled with painstakingly detailed engineering designed to protect not only your firearms, but your jewelry, family heirlooms, and precious photo albums from nature's elemental terrors, professional riffraff, and curious kids. Then again, I suppose the second answer isn't universally accurate. There are certainly those safes which stand head and hinges above the rest. The following list comprises the latter; those that live up to their value, and keep your valuables unharmed.
This list is something I've thrown together from personal research, observation, and my own unique enthusiasm for firearms storage solutions. Though my supporting information is accurate, many of the superlatives listed stem from my own "educated" opinion and shouldn't be interpreted as the final word (I'm open to feedback). I should also note that this list is primarily comprised of RSCs (Residential Security Containers), essentially meaning they can survive a five minute beating from a safe cracker armed with common hand tools, a three pound hammer and a high-speed carbide drill…but more on that later.
What I'm getting at is that the majority of these units, though each uniquely impressive, aren't, in the technicalist of technicalities, 1/2″ plate steel clad "safes". Then again, the majority of you reading this have neither the dough or the need to purchase a full-blown TXTL-60 rated safe (tested to take a full hour of continuous abuse with basically everything from a welding torch to a short stick of dynamite). Calling an RSC a safe is kinda like calling a magazine a clip – it pisses off the professionals, but it's good enough for you and me. Now, on with the gun safe list 😉
Biggest Gun Safe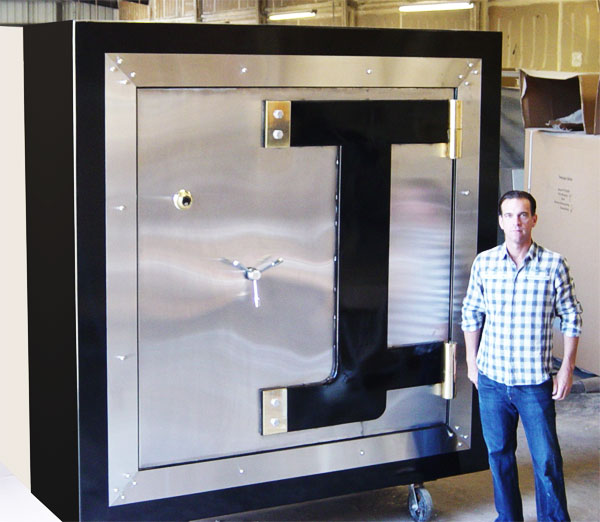 I wanted to get this unit out of the way early to keep things fair for the rest of our nominees.  Technically, in addition to awarding it for its massive size, this safe should also take home the prize for highest capacity, and arguably best case study, as it can easily hold 300 firearms, and is the world famous safe used on the game show 'The Price is Right'…but we're going to take it one step at a time.  This monster created by the folks at the Sportsman Steel Safe Company is appropriately named 'The Gibrlatar'.
They'll build this sucker in any size, weight, shape, or color your heart desires, but for most of you maniacs, the base model, priced at $9995, will be plenty.  Most gun safe dimensions are advertised in inches – at 168 cubic feet (2016″), the Gibraltar warrants a bit more respect.  And make no mistake about it, this beast is more than a dumb weight novelty box – Sportsman Steel has an innovative, quality reputation, and they don't exactly pull any punches with their flagship.  It's rigged with six relockers, a 1″ thick drill-killing hardplate, 20 solid steel bolts around the door frame, 1/4″ plate steel body, a two-hour -ested, peace of mind fire rating.  All these features illustrate quite obviously why no one has ever successfully broken into one (that, and as part of the warranty, Bob Barker will come out of retirement to personally pummel anyone stupid enough to try – the price is wrong!).
Most Expensive Safe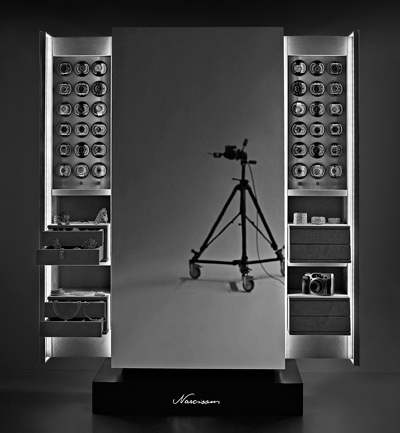 Ok, I realize I said that I wasn't going to include custom over-the-top models in this list, but…I kind of lied.  I just want to help put into perspective how ridiculous, and disgustingly deep some rich folks' pockets are.  Many consumers, myself well-included, have gone into severe sticker shock shopping for premium gun safes like Brown, Liberty, Gaffunder, Browning, and Fort Knox, many of which can easily creep up into the $5-10K range.  Well, imagine seeing a $340,000 price tag – your brain would probably blow clean out your face – I know mine did.  The cause of this brain-sized hole in my face is none other than the icon of luxury, Karl Lagerfeld, who worked with German safe manufacturer, Döttling, to produce what is essentially the most expensive piece of security-conscious art work in existence; the Narcissus.
I wasn't just being cute, it truly is a piece of art, able to blend into the setting of any room…literally.  This 72″ tall, one ton safe is covered from head to toe with mirror-finish steel plated aluminum, and chock full of handcrafted mechanically operated drawers for the Jones' diverse Casio collection.  And while it's not exactly labeled as a gun safe – per se – I'm sure old Karl wouldn't mind if you threw a couple bowling pin plinkers in there for safe keeping.  Only 30 were made, so if you can't afford them, you better get crackin'.  Let's just hope that for Lagerfeld's sake, he was smart enough to throw some chrome plated anchor bolts into the package.
Best Locking System
The lock system can either make or break the value of a gun safe.  You may have an 800 lbs solid unit with a 30 minute fire rating, but all that's utterly useless if it takes a knuckle head with a drill two minutes to compromise the lock.  If you want to maintain the peace of mind that inspired you to make the purchase in the first place, don't skimp on the safe lock.
Most safes dubbed with the 'premium' monicker – models typically price in the $3-6K range – are crafted by manufacturers who understand the value of a tight security seal.  In fact, they're essentially required to if they want to pass their big UL (Underwriter Labs) exam. Almost any home safe worth its salt receives an RSC (Residential Security Containers) rating from UL, part of which requires UL's pro crackers to fail at attempting a break-in after attacking the lock with a high speed carbide drill for five straight minutes.  All of the big boys in the industry have their marks including the Fort Knox Legend (which by the way has the most locking blots of any mainstream RSC at 28), Browning Platinum, Cannon Safari, and the American Security HS series, but the locking mechanism that got my attention is Liberty's new Monster Mech GX-480.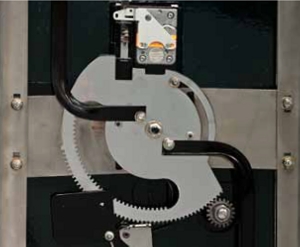 It sounds like the name of that security bot in Robocop who bugged out and blew that dude's intestines up into his face when he thought he had a gun.  In fact, I think the Monster Mech is related to Robocop's ED209 (yeh, I had to look up its name).  The GX-480 isn't a safe itself, but a newly designed locking system engineered by the ever-innovative folks at Liberty as a premium option for their two premiumest (word!) safes; the Presidential and the National Security Magnum.  What they've done is taken all of the features that make a locking system great, and jacked them up a notch.  It operates on a 480 degree rotation gear drive, controlling all of the safe's 26 1.5″ thick bolts with it's patent-pending anti punch engineering.  In addition to punching and drilling, one common method of busting into a safe is over-torquing the system – practically impossible with the Monster Mech's slip clutch handle.
Back in December, a group of burglars armed with a hammer drill, a pick axe, a punch, hatchet, pry bars, crow bars, and everything else short of a thermic lance tried to break into Tyler Texas' new Presidential, which was equipped with the GX-480. They worked it for five hours before they quit without even coming close.  A testament to not only the Monster Mech, but Liberty's Presidential craftsmanship as well.  If this sucker isn't the best RSC locking mechanism on the market right now, please tell me what is…honestly, I'd love to know what you think!
Best Safe Lock
While industry leaders like Kaba Mas certainly craft fine reliable products, S&G (Sargent and Greenleaf) easily ranks at the top, proven through both market success and elite design.  They have available a full host of different locks manufactured to dawn the finest residential security containers, vault doors, and commercial safes in the biz.  Though their entire line is solid at its worst (all UL-rated), I'd like to discuss the two models that I feel actually deserve the title, 'best lock'.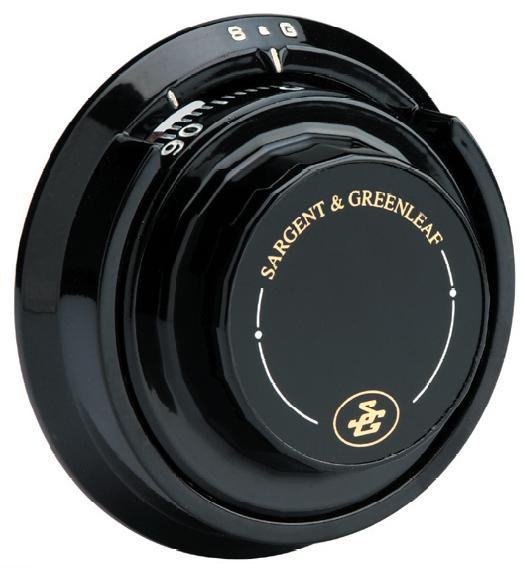 While I certainly have a distinct appreciation for the convenience and flexibility of the high tech and new-fangled (which you'll see in a moment), when it comes to safe locks, I'm partial to the old school flavor; rotary dial operated mechanical locks.  I say old school because combination style mechanical locks have been used in full swing since the 1870's, many of which are still going strong today.  You may not be able to access your safe with the speed and convenience of a keypad or fingerprint reader, but the only thing that these suckers need to run forever is a locksmith checkup every half decade or so.  S&G, though focusing much of their efforts on manufacturing and distributing their line of electronic locks, offer a slew of the mechanical variety as well.
Though you're likely to find the S&G 6xxx series locks (UL Group II) on most high-end residential gun safes (Fort Knox, Browning, and Liberty to name a few), their most resilient, expertly designed model is their 8500 – one of the finest UL Group 1R locks on the market – period.  Such a federally approved rating requires testing the lock against a severe physical beating coupled with hours of expert manipulation  – in the case of the 8500, hundreds of pounds of force resistance and 20 hours against expert cracking attempts justify its coveted mark of approval.  In addition, the "R" portion of the UL nomenclature indicates that the lock's acetal resin wheels give it the ability to withstand break-in attempts aided with X-ray imaging.  This is the real deal, son!  If you think that the S&G 8500 lock may be a little overkill for your humble needs, and you want to stick with the manufacturer's default model – no worries – S&G's 'Magic Module' guarantees that the footprint is virtually the same as their other models, allowing you to swap it out seamlessly if you're looking for an upgrade down the road.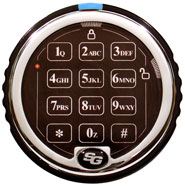 Say you're like most American gun safe owners, and you tend choose speed, convenience, and modularity over longevity and hassle-free maintenance.  If this sounds like you, you're likely suited for a more high tech solution for opening your safe.  Mechanical dial-operated locks indeed require the least maintenance relative to their electronic cousins.  However, electronic locks have come a very long way since their early inception to the security industry, particularly those with UL Type I marks.  In addition to having the bare minimum of one million different lock combinations, as well as a relocking system in place (a safe guard against the common punch attack), an electronic lock with a UL Type I rating must also be able to withstand the stress of common wear and tear associated with inevitable aging, moisture resistance, excessive vibration, and corrosion.
The S&G Z03 encompasses all of the aforementioned benefits of a Type I rated lock, and then some.  Basic access to the lock is governed by a 10 digit keypad, but the technology wrapped up into the model pushes its capabilities much further.  For those fans of 'overkill' levels of home security, or more practically, suitable protection in an office or retail environment, the Z03 allows for supreme user control and flexibility.  In addition to the master and supervisor code, up to five different user codes can be used to open the safe.  Along with both time delay and time lock features, as well as dual control options, the possibilities for redundant point of access security are limitless.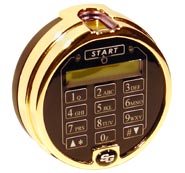 For ultimate protection, you can hook the Z03 into your security system, syncing it with your motion sensors and security cameras.  If things get really hot, S&G's 'duress mode' allows you to punch in a code that will simultaneously alert the police as it opens the safe…tell that jackass with the ski mask to make sure he gets everything in the back.  To further the unit's flexibility, as in the case of the 8500, nearly all of S&G's electronic models are part of the same basic footprint, allowing you to upgrade to the Z03, or downgrade (I use that term loosely) to a mechanical system.  If you really want to take it to the next level, the Z03 can be equipped with the S&G biometric keypad ring, allowing you both the power of the core system, coupled with the speed, security, and potential redundancy of adding a fingerprint scanner.  Satisfy your fastidious need for extreme security, and program your lock to accept only users with both the entry code, and the fingerprints.  You can go nuts with this baby, baby!